Extracts from Some Recent Comments from Guests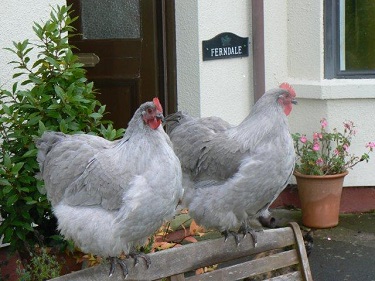 "The hens deserve a mention"
Sorry to have to say that Mr or Mrs Fox stole both of these lovely hens. Our hens now have a large, fenced area to explore where they are safe. And the deer can no longer eat the apple trees!
"We had been looking forward to this holiday and were not disappointed. The flat is attractive, comfortable and very well equipped. We have enjoyed walking in the beautiful, quiet countryside, admired the many old churches and loved our visits to Much Wenlock, Ludlow and Clun." (Summer 2021)
"A wonderful few days in this lovely part of Shropshire. A warm welcome from Wendy and a comfortable and well-equipped flat. Hope to come again!" (Summer 2021)
"A lovely holiday. The wildlife is wonderful and we especially loved seeing deer along the lane and hearing the owls calling at dusk." (Summer 2021)
Closed by the corona virus: March to July 2020. Reopened 4 July 2020
"We will readily book again in this beautiful flat, once all has reached normality." (March 2020)
"Lovely plce. You've thought of everything. Will come again." (Feb 2020)
"Enjoyed the history and geology of the area and a beautiful walk up to Wenlock Edge." (Oct 2019)
"Our 4th stay here. The flat is so comfortable and well located." (Oct 2019)
"The Ferndale Flat could not have proved more fabulous: a choice spot, extremely comfortable, well appoinyed and well architected …" (Oct 2019)
"Another perfect stay at Ferndale. We really appreciate the peaceful location, yet not far from the many attractions of the surrounding area." (Oct 2019)
"A lovely stay, really quiet – apart from the tawny owls." (Sept 2019)
"We will always be grateful for the ability to get up close and personal with the chickens, seeing the fox and pheasants and beautiful countryside…" (Sept 2019)
"We have so enjoyed being in this relaxing and comfortable flat again". (August 2019)
"We're so glad to have found this beautiful holiday flat - we just love it here. We will definitely be back." (March 2019)
"Had three really peaceful days at your flat. It is very comfortable and we felt home from home." (March 2019)
"Back on our third visit - another amazing, peaceful and restful week. Saw more deer this time but the owl still avoided us although we could hear him every night." (February 2019)
"Thanks again for your welcome and hospitality in this cosy, peaceful place." (December 2018)
"Enjoyed five beautiful and peaceful days in a lovely location and beautiful flat. well thought out with everything we could possibly want." (November 2018)
"Our second stay here and enjoyed it as much as the first - have now booked again." (October 2018)
"What a lovely place, set in gorgeous countryside and so much to see and do." (September 2018)
"Wonderful flat and such attention to detail." (August 2018)
"Such a beautiful, tranquil place to stay." (August 2018)
"Very enjoyable stay in the flat. Already thinking of coming back!" (August 2018)
"Had a very enjoyable fortnight. the flat is perfect, comfortable, homely, well equipped in a beautiful, quiet and peaceful location." (July 2018)
"The flat is very comfortable and to a high stand the best we have stayed in." (July 2018)
"We loved just sitting relaxing on the balcony, listening to the wildlife." (June 2018)
"We have had a very enjoyable week in this fantastic flat. It far exceeded our expectations. Everything provided of high quality. We especially enjoyed the balcony and were lucky enough to have three fantastic sunsets." (June 2018)